Replaying Japan 2022 – Call for Papers
(Hybrid, English)
The deadline for Replaying Japan 2022 – the 10th International Japan Game Studies Conference is
Deadline extended
April 30th, 2022
Notification of acceptance will be sent at the end of May
---
Replaying Japan 2022: The 10th International Japan
Game Studies Conference
Replaying Japan 2022 
Online and on-site Hotel Anteroom Kyoto 
---
Replaying Japan 2022: The 10th International Japan
Game Studies Conference
---
Conference theme: Games for Learning
Date: August 25-27, 2022
Location: Hosted online and on-site at Hotel Anteroom Kyoto by Ritsumeikan University
Please note that as of August 10th, 2022 the location for the on-site section of this conference has changed to the Hotel Anteroom in Kyoto. 
All keynotes and presentations on August 25th and 26th will now be held online. The morning session on August 27th will also be online. Only the poster presentations on August 27th and the keynote held in the afternoon will be conducted on-site. 
Please be aware that, as of now, it is not possible to enter Japan on a tourist visa. No exceptions can be made for academic conferences. Participants from outside Japan should assume at this stage that their presentation will be made online. We thank you for your understanding and will update you if there are any changes.
Replaying Japan2022における会場変更のお知らせ
COVID-19の状況を踏まえ、Replaying Japan 2020におけるオンサイト部門の開催場所が、立命館大学OICキャンパスから、京都のホテル・アンテルームに変更となりましたので、ご注意ください。
8月25日、26日の基調講演とプレゼンテーションは、すべてオンラインで行われるようになりました。また、8月27日のモーニングセッションもオンラインとなります。27日のポスター発表と午後の基調講演のみ、現地で実施します。
Proposals in Japanese are most welcome! 日本語での発表要旨も受け付けます。
Call for Papers
Since 2012, when we held the first meeting in Edmonton, the Replaying Japan conference has hosted researchers from various fields conducting research on Japanese game culture. The tenth international conference will be hosted by Ritsumeikan University at the Osaka Ibaraki Campus. After a two year hiatus, we hope to have some aspects of this conference conducted on-site, with an online section for those unable to make it to Osaka. Through this conference we wish to continue to celebrate the rich and international research community interested in games and Japan that has evolved since 2012.
This year's conference theme will be "Games for Learning". Games in various formats will always have a role in our society, we learn through them, about them, and in playing them. While some might see games as frivolous play, others can see the learning potential gaming can provide. In the right context, games can be a powerful learning tool for children and adults alike.
This theme has been selected to allow participants to demonstrate the broad range in which Japanese games can be used as an instrument for learning. Particular attention will therefore be paid to how learning is represented in Japanese games. Proposals that address games for learning in Japanese game culture are thus encouraged, but other topics are also welcome. This conference focuses broadly on Japanese game culture, education, and industry. It aims to bring academics, educators, and the Japanese game industry together. Academics from all perspectives are welcome, including the humanities, social sciences, business, and education. We encourage poster/demonstration proposals of games or interactive projects related to these themes.
Conference Format
As the conference is being held in a hybrid format (online and on site), we will be following a compressed presentation format where presentations are short to leave time for questions.
Each session will be 30 minutes and will have a chair.

We will ask that full papers/posters/demos be uploaded a week before the conference to a conference website. 

During the online sessions, presenters will not present their papers. Instead they will be given 3 minutes to summarize their work.

There will be a respondent who will comment briefly on the papers/posters/demos and ask the first questions.

We will take written questions from the online chat.

Sessions will be in English, but we will have translation support for presenters who are not comfortable with English.

For work in progress there will be a special Lightning Talks session.

All sessions will be recorded and shared among the participants. We intend to make them accessible to a wider audience after the conference, pending the approval of the speakers.
Submission Guidelines
Abstracts must be submitted to replayingjapan@gmail.com as a MS Word Document. The abstract should be no more than 500 words. Figures, tables and references do not count toward the word limit. Please include your name, affiliation and email address in the email, but not in the submitted abstract. In addition, please add the title of your presentation/demo in the email as well when submitting.
The following paper categories are welcome:
Full papers:

If accepted you will be expected to submit a paper (around 3,000 words) or a video presentation (up to 20 minutes) in English one week before the conference.

Posters/demos:

Presenters who want to demonstrate innovative work best shown visually rather than submit a written paper should take advantage of our poster/demo sessions. If accepted you will be expected to submit a poster OR a short video (up to 5 minutes) in English a week before the conference. Again, there will be an online session where you can talk to your poster/demo.

Lightning Talks:

If you have work in progress that you would like to present we will have a Lightning Talk format. Abstracts can be shorter than 500 words. If accepted you will be expected to post a short video a week before and to submit a single PowerPoint slide. We will have a session when each Lightning Talk presenter will get 1 minute to talk to their slide.
It is understood that by submitting to Replaying Japan 2022 you assert that the work is original and that there are no copyright issues. You also agree to let the University of Alberta post you work and archive the conference proceedings/video/draft papers. 
Note that we plan to have support for Japanese speakers for whom presenting in English is difficult. We will have workshops in Japanese for graduate students on preparing for presentations at international conferences. We will also have ad-hoc translation support during the conference to help with presentations and questions. 
Announcing: The Prince Takamado Japan Centre will also be awarding two essay prizes (1500 words) to the best student presentations on Japanese games. These will have a value of $500 CAD each.
Important dates
Submission of proposals: April 15, 2022
Notification of acceptance: May 31, 2022
Revised proposals in English due: July 15, 2022
Full papers, video presentations, posters etc.: August 10, 2022
Conference: August 25-28, 2022
Keynotes 2022
---
Dr. James York
James is a senior assistant professor at Meiji University where he teaches and conducts research on the application of games and play in language and literacy teaching. He is currently exploring projects in the following areas:
– Teaching cyberpragmatics through analysis and participation in Reddit communities.
– "Doing things with games and play" (Having a societal impact with game design).
– The language of games and play (genre analysis, game literacy, learning about the games industry).
– A PBL class focused on the SDGs.
– A task-based language teaching approach to learning English communication skills with board and video games.
James also edits Ludic Language Pedagogy, an open-access journal that publishes research on the integration of games and play into language teaching practices.
---
明治大学の専任講師として、言語やリテラシー教育におけるゲームや遊びの可能性について研究を行っている。現在、以下のプロジェクトを実施中。
– Reddiの分析や参加による言語教育。
– "Doing things with games and play"(ゲームデザインの社会的かつ教育的なインパクトについて)。
– ゲームと遊びの言語(ジャンル分析、ゲームリテラシー、ゲーム産業についての学習)。
– SDGsに焦点をあてたPBL授業。
– ボードゲームやビデオゲームを使った英語能力を育む授業。
また、ゲームや遊びを言語教育実践に取り入れるための研究を掲載するオープンアクセス・ジャーナル「Ludic Language Pedagogy」の創立者かつ編集者。
---
岸本 好弘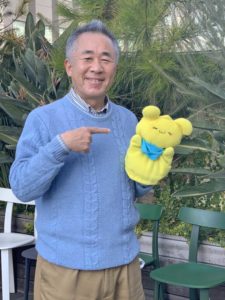 岸本好弘は、ゲーミフィケーション・デザイナーLv98、日本ゲーミフィケーション協会の代表賢者です。
彼はファミコンが存在する前に、からずっとゲームをデザインしています。ナムコとコーエーのような会社で働いているテレビゲーム発展の29年の経歴で、彼は、ちょうど60のゲーム開発に携わりました。
その後、彼は、同じフィールドの研究者になりました。東京工科大学メディア部の準教授でした。ビデオゲームの力がどのように教育と社会全体のために用いることができるのかについて、彼の研究は集中しました。
その後、彼は日本ゲーミフィケーション協会を立ち上げました。日本の教育や仕事や子育てなどがゲーミフィケーションを活用して、よりやる気に満ち溢れることを目指して、ゲーミフィケーションの講演や勉強会を行っています。「世界を神ゲーに。」が彼のミッションです。
彼の好きな食べ物はオムライスです。
---
Mr. Yoshihiro Kishimoto
Yoshihiro Kishimoto is a level 98 gamification designer and sage-level representative of the Japan Gamification Association.
He has designed video games long before the Nintendo Entertainment System existed. With 29 years of experience under his belt as a video game developer, Yoshihiro has worked at companies such as Namco and Koei, and has developed 60 games to date.
He wore the hat of a game researcher. He was an associate professor at Tokyo University of Technology School of Media Science, where he taught classes and workshops on gamification. His research was focused on how the power of video games can be used to benefit education and society at large.
He then founded Japan Gamification Association. He gives lectures and holds workshops with the aim of helping motivate people gamify things such as education, work, and child-rearing in Japan. His ultimate mission is to "make the world a fun game!"
His favorite food is Omurice.
---
Clara Fernández-Vara
Clara Fernández-Vara is Associate Arts Professor at the NYU Game Center. She is a game scholar, designer and writer. Her main research interest is the study and creation of narrative games, and how they create worlds as sites of performance. Clara's digital media work is grounded in the humanities, informed by her background in literature, film and theatre. Her current work focuses on detective games and their relationship with other media. Her book, Introduction to Game Analysis, been published by Routledge. and is now on its second edition.
---
Contact Information
For more information see www.replaying.jp or contact replayingjapan@gmail.com. 
You can follow us on Twitter at #replayingjapan
Organizing Committee
Replaying Japan 2022 is organized by the Ritsumeikan Center for Game Studies, in collaboration with University of Alberta (AI for Society (AI4S) signature area, the Prince Takamado Japan Centre (PTJC), and the Kule Institute for Advanced Study (KIAS)), University of Delaware, Bath Spa University, Seijoh University, University of Liège, Université du Québec à Montréal (UQAM) and DiGRA Japan.