---
Keynote Speakers
---
The Ritsumeikan Center for Game Studies (RCGS) was established to cater to the growing interest of overseas game researchers in Japanese games and to promote insights from game researchers in Japan to a global audience. They have been collaborating with overseas research institutions such as the University of Alberta and now with the University at Buffalo, SUNY, to host the international conference on Japanese games called Replaying Japan. Since the conference's inception in 2012, there has been an intentional effort to share industry insights in an academic context. The conference has hosted keynote lectures, featuring prominent individuals who have been at the forefront of the Japanese gaming industry, sharing valuable insights into their experiences developing games and related hardware. This tradition continues to this day. RCGS itself was launched in response to an initiative by Mr. Masayuki Uemura (1943 – 2021), the chief developer of the Family Computer (Nintendo Entertainment System), who began teaching has been teaching at Ritsumeikan University since 2004.
Over the years, Replaying Japan has hosted influential figures like Mr. Masayuki Uemura, Mr. Tomohiro Nishikado (Space Invaders), Mr. Toru Iwata (Pac-Man), Mr. Masanobu Endo (Xevious), Mr. Hironobu Sakaguchi (The Final Fantasy Franchise), Mr. Thomas J. Kalinske (former SEGA America), and Mr. Hirokazu Hamamura (Famitsu Group). These individuals have played a significant role in the Japanese game industry, along with game designers such as Mr. Masaya Matsuura (PaRappa the Rapper) and Mr. Toru Kawakatsu (Gnosia), who introduced unique games to the world.

Mr. Taro Yoko
For the 2024 Replaying Japan conference, we are proud to welcome Mr. Yoko Taro as part of this esteemed list of game industry legends, with a focus on the theme of A.I. and Creativity. His work Nier Automata (2017), which has achieved a global circulation of over 7 million copies and received numerous accolades, is renowned for its focus on AI-themed storytelling, making him a perfect fit for the conference's theme.
Tentatively titled, "World Building in an AI-Integrated Society from the Perspective of Japanese Game Creators," Mr. Yoko's presentation will explore various aspects of his creative process in relation to topics such as how AI became a central theme central themes in game experiences long before technology became as ubiquitous in our daily lives as it is today.


Dr. Jon-Paul Dyson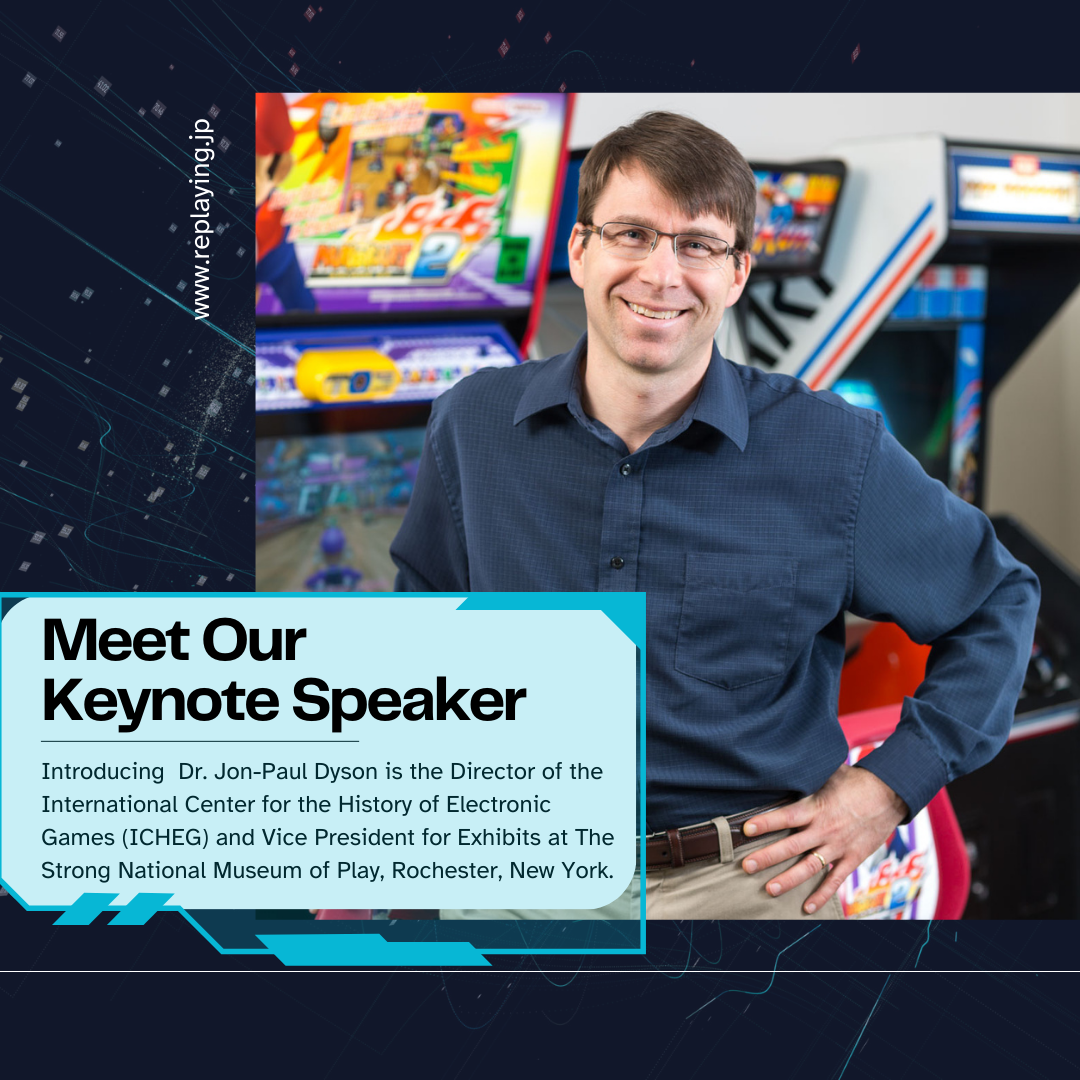 In celebration of the conference, which will be held in tandem with the Video Game Preservation Conference happening at The Strong National Museum of Play, we are thrilled to announce another prominent keynote, Dr. Jon-Paul Dyson, who is the Director of the International Center for the History of Electronic Games and Vice President for Exhibits at the Strong National Museum of Play in Rochester, New York. 
As Director of ICHEG, Jon-Paul has supervised the growth of the collection to more than 65,000 video games and related artifacts and hundreds of thousands of associated library and archival materials, the most comprehensive such collection in the world. He is also in charge of the research, development, fabrication, and maintenance of highly interactive, artifact-rich exhibits at The Strong that explore the past and present of play and are visited by nearly 700,000 people a year. In 2023, the museum opened a 90,000 sq. ft. expansion that included Digital Worlds, a series of exhibits on the history of video games.