Thomas J. Kalinske
Tom Kalinske has had a long, distinguished career in the video games, education, and toys industries. He is currently chairman of Gazillion Games and Executive Chairman and co-founder of Global Education Learning, a company that acquires education companies in China focused on improving education for young children ages 2-7.  Previously he has had key executive roles in numerous companies including LeapFrog, Knowledge Universe, Matchbox, and Mattel. From 1990-1996 he was president and CEO of Sega of America during which time the market value of Sega grew from $2 billion to $5 billion. A graduate of the University of Wisconsin.  He earned an MBA from the University of Arizona, and attended the Harvard Business School's Strategic Management Program.
He and his wife Karen have 6 children and live in Atherton California.
Rachel Hutchinson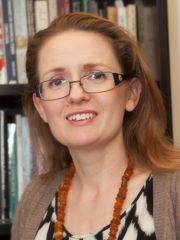 Rachael Hutchinson is Associate Professor of Japanese Studies at the University of Delaware, where she teaches Japanese language, literature, film and videogames. As chair of the Game Studies faculty, she established the UD Games Lab in 2009 and a Game Studies Minor in 2015. Her work on Japanese games appears in the journals Games and Culture and NMEDIAC: Journal of New Media and Culture, as well as the books Gaming Representation: Race, Gender and Sexuality in Video Game Studies (ed. Jennifer Malkowski and TreaAndrea Russworm, U. Indiana Press) and Introducing Japanese Pop Culture (ed. Alisa Freedman and Toby Slade, Routledge). She has published widely on representation and identity in Japanese literature, film, and manga, and is currently working on a book, Japanese Culture through Videogames. The book analyzes Japanese console games in various genres to explore Japanese ideologies of gender, race, colonialism, bioethics, nuclear power and war.